It's early in the month, but I have already blown my shopping budget and am done until October lol! Yes, I do stick to a budget otherwise I would go crazy because I love shopping for a season change! I found some great fall gems below that will last me until Spring and beyond. Below are my favorite September purchases of 2020!
If you missed my favorite August purchases, check them out here.
Sizing Notes:
1, 4 – These joggers are a slim fitting jogger. I went up to a small so that they would have a more loose fit. They are high rise and super cute for wearing at home AND out!
2 – These are TTS. I love that I don't need them hemmed being that I am 5'4″
3 – This runs HUGE. I need to go down 2 sizes to XXXS. If you want to see a video on the fit of the XS and XXS, I have them in my Instagram J Crew story highlights.
5, 11 – I couldn't find XS in these so I sized up to a small. The small fits perfect oversized and I actually like the look of it. If you ordered these during the Nordstrom Anniversary Sale and your order got cancelled, you can get a price adjustment post sale if you purchase. I bought these last week for $135 and got them adjusted to the sale price of $79. I talk more about price adjustments in my Nordstrom Anniversary Sale story highlights.
6, 7 – These are the perfect "dressy" cardigan / coatigan that you can wear with everything. I tried these on at the store and they are TTS.
8 – Just wanted to say this necklace is even better in person and if you've been on the fence about it, get it!!
9, 10 – I find these fit TTS but size up if you have a wide foot.
Have any other questions on my favorite September 2020 purchases? Leave them in the comments and I am happy to answer!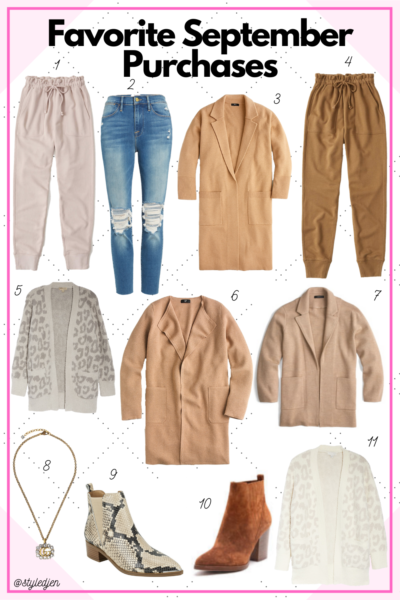 Links:

1 Blush Joggers | 2 Denim | 3 Ella Coatigan | 4 Camel Joggers | 5 Grey Leopard Cardigan | 6 Juliette Coatigan | 7 Sweater Blazer | 8 Gucci Necklace | 9 Snakeskin Booties | 10 Suede Booties | 11 Cream Leopard Cardigan
Shop The Post